Principal's Pennings, April 28, 2016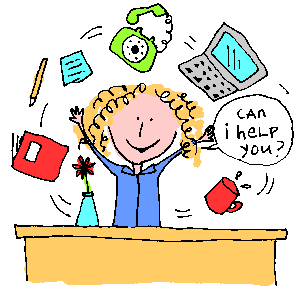 It is Administrative Assistants Day as I write this. That made me think of the job descriptions for our administrative assistants, which might go something like this:
Sort mail
Screen visitors to the office
Type as needed
Answer the phone
Handle registration procedures
Make sure all school forms are turned in on time
Disperse medications as dictated by law
Assemble handbooks, etc.
As I watch Mrs. Smith and Mrs. Nyquist around the office, I think they are not aware of their job description. Now don't get me wrong! It's not that they are NOT doing their job, it is that they do MUCH MORE than the aforementioned job description. To them, the job description might read more like this, because these are the things I see them doing:
Mop bathroom floors as needed
Unclog stools as needed
Comfort children with scraped knees and splinters as needed
Fix office machines if possible
Run off papers for teachers
Answer phones cheerily even though they've answered the same question ten times
Determine when and if parents should be called over minor scrapes and bruises
Cheerily say Happy Birthday and look hungry when children of all ages bring in birthday treats
Play school nurse when appropriate
Spread the Lysol when warranted
Exterminate stray wasps, etc.
It was at an administrators' conference years ago that our head supervisor reminded all of us who the most important one in the office is, as they are the first link to the outside world. It's not the administrator, but the administrative assistant! It's that person that gives those on the other end of the phone that first impression or glimpse into our Lutheran School!
On this, Administrative Assistant Day, we thank God we have competent, well liked, administrative assistants. Jen and Rhonda, we all thank God for you and your many talents. Thank you for all you do for Martin Luther Academy!