11 October Penning
By Mrs. Ann Arndt
Principal's Pennings
The end of 1st quarter is coming up soon and with that, parent/teacher conferences. Raising children is quite a task, as is educating them. It's good for parents to be able to communicate with their child's teacher. It's good to compare perspectives between teacher and parent. Imagine a group of children in front of an audience. If you are the parent, where does your attention focus? On that ONE child that is yours! You notice everything - how they stand, their facial expression, everything about that ONE child. Your perspective comes from raising that child, taking care of his/her every need. The teacher's perspective, slightly different! The teacher has to see that child as an individual, and as part of a whole class – a whole class of special children. The teacher feels pride, too; pride for all his/her children. The perspective is obviously different, as the parent focuses on one, the teacher on many.
4 October Penning
By Mrs. Ann Arndt
October 4, 2016
I'm in an "appreciate your teacher" mode. I was thinking of their job descriptions, and realize again, that even in the most detailed of job descriptions, many things are not included. Here are a few of the "interesting" tasks that teachers find themselves doing: wiping runny noses, tying shoes, mediating quarrels, checking for head lice, unclogging toilets, putting band aids on bruises, reading notes from satisfied (or unsatisfied) parents, opening stubborn lunch containers, fixing bloody noses, finding lost glasses, diagnosing chicken pox, opening a Christmas present when an over eager child has already told you what it is, looking for lost retainers in the cafeteria trash can, suffering through temperamental copy machines, sharing with children what they bring you (left over snacks, family secrets, OOPS, yes it happens, flu, flowers – sometimes with ants included, knock knock jokes, etc.)
Of course, it also doesn't list as compensation for a job well done: hugs, smiles, pats on the back, good parent notes, birthday treats, many Christmas gifts, children's jokes, friendly conversation in the halls, the joy of a "light bulb going on" in the child's face.
Principals Penning May 19, 2016
Life moves on. The teacher walks back into the empty classroom. It's quiet, the desks are all cleaned out and textbooks fill the shelves. The students have left in a frenzy of excitement and good-byes.
The teacher will see the children again, of course, but it will never be quite the same. Some will be in the same room next year, but in a different grade. Some will move on to the next teacher, and will "belong" to someone else. The teacher will face new children in the room, and the process begins anew. The new charges in the class will bring new challenges and new connections. But, this year is gone.
Every class is different and special. As teachers, we are excited to see the children advancing as God would have them do. But, it's not without a little tug at the heart on the last day of school. There's a little prayer for each child as he/she leaves the school ground for summer break. The break is good. The children scatter in all directions for the summer. We pray that teacher and learner never forget the blessings they have brought to each other's lives. They'll both come back renewed, rested, and ready to move ahead. Both will return excited about new beginnings.
Principal's Pennings, May 12, 2016
Last Friday, Miss Chancellor was our principal for the day, as a result of an auction purchase. Her jobs included greeting students at the door, making announcements, visiting classrooms, handing ice cream to every student at lunch, going out to lunch with Mrs. Arndt, teaching a math class, planning a rousing game of volleyball between faculty and 7/8 grade students, AND writing the Principal's Pennings for this week's Eagle's Cry. Miss Chancellor chose to write about the great things that happen when going to a Lutheran school. Here is her article:
There are many great things about attending a small Christian school. I have been at a small Christian school my whole life since preschool until now. Having a small school is great because you meet people and you truly become great friends and not just people who sit together at lunch. All the kids in my class have been in the same class as me since kindergarten or preschool. Now we know what makes each other happy and also what makes us upset. We know what to talk about and what to do together. At a small school you get to know everyone in every grade and so you don't have as many problems with older kids not really caring about the younger kids.
Principal's Pennings, May 5, 2016
Sunday is Mothers' Day, and my thoughts quite naturally go back to my own mother. She went to live with Jesus twenty-nine years ago this month. Thoughts of her still bring an occasional tear, but most often a smile accompanied many times by a chuckle as I remember certain instances. Mother would have never considered herself a comedian, she was much too shy for that. However, many times she was funny, and the source of much laughter for the family. Most times she wasn't even trying to be funny, she was just being herself, which is often much funnier than someone who is trying to be funny.
Principal's Pennings, April 28, 2016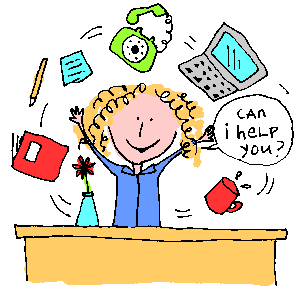 It is Administrative Assistants Day as I write this. That made me think of the job descriptions for our administrative assistants, which might go something like this:
Sort mail
Screen visitors to the office
Type as needed
Answer the phone
Handle registration procedures
Make sure all school forms are turned in on time
Disperse medications as dictated by law
Assemble handbooks, etc.
Principal's Pennings, April 21, 2016
Self esteem is a very delicate thing. Each of us as adults has arrived at our own level of self esteem in many different ways. God gives us each our own worth by simply making us and saving us! Self esteem for children is so easily built up or torn down by peers, parents, teachers, or relatives.
How do we, as parents and teachers, deal with children when they sin, or how do we deal differently when they make innocent mistakes? There is a difference. Sin is against God's Law, a wrong! An innocent mistake may be accidently spilling milk or knocking a vase off the shelf. In this PP, I'm speaking of innocent mistakes.
Principal's Pennings, April 14, 2016
Working in a PSA department, many years ago, really opened my eyes to the struggles of teenagers, most of whom were not being raised in a Christian environment. These kids had either social, emotional, or behavioral issues. I learned that year not to be judgmental, but to look beyond these issues to what was concerning for each child. I learned a most important lesson from these teenagers. I liked all the kids in that group, even though there was not one of them who did not have severe problems like the ones mentioned. They were all in the PSA department because they were no longer allowed in the regular classroom. They still needed their education, but were beyond fitting into a classroom.
Principal's Pennings, April 7, 2016
We often ride bikes along the Little Blue River in Independence. It's one time we get away from the phone and pretend we have nothing to do. Sometimes we leave the bikes and take the dogs. We don't have young children anymore to help remind us to stop and admire the changing leaves or flowers, but dogs do almost the same thing. They can't just walk three miles at a steady pace, they have to stop and smell the leaves, grass, trees, or whatever. So, while they are using their olfactory senses, we take time to use our visual senses.
Principal's Pennings, March 3, 2016
Growing up in the country in the middle of Nebraska as a teenager left little availability for summer jobs. Some of my friends worked at the one drive-in that was in town, but mainly the "town" kids did that. We "country" kids were probably expected to work on the farm. My parents rarely disagreed on anything, but they did disagree on one thing, and that was how I was to spend my summers as a 15-20 year old. Mother maintained that I should get a more "lady like" job, being a waitress in a local café. Dad said I should work on the farm, helping him so he didn't have to hire a hired man. I don't recall having a lot to say about it, because this seemed to be a parental decision at the time. I do remember thinking I'd much rather work with my father, although that was much harder work. Dad won every year, which meant I got up at 5:00 am to irrigate, dig ditches, mow grassland, rake, stack, fix fence (not good at that!), feed cattle, or whatever. It was very hard work, but the benefits were fantastic: room and board, great company, lots of positive reinforcement, lots of joking around, lots of fatherly wisdom shared. My wages? NOTHING! I knew it from the beginning. There would be no paycheck, work seven days a week (cows need to be fed, even on Sunday) and not even the 4th of July off! I did get a $2.00 a week allowance, though, which covered a weekend movie and snack afterward.